First listed on: 01 January 2019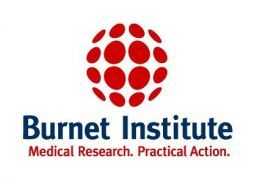 ABOUT BURNET
Burnet Institute is a leading Australian medical research and public health organisation focused on achieving better health for vulnerable communities in Australia and internationally by accelerating the translation of research, discovery and evidence into sustainable health solutions. The Institute is headquartered in Melbourne with programs that operate across Asia, the Pacific and in Africa.
Burnet's culture links innovative discovery-oriented research and implementation research with development and humanitarian action. World-class laboratory and field-based research is integrated into multidisciplinary programs aimed at the prevention, detection and treatment of diseases of global significance. This unique approach allows the Institute to make a tangible and sustainable impact on health in both developed and developing countries.
The Institute has three major thematic programs – Disease Elimination, Behaviours and Health Risk, and Maternal and Child Health, and two expansion programs – Healthy Ageing and Health Security. Staff within these Programs are supported by cross-cutting communities of practice; the disciplines of Life Sciences, Public Health and International Development.
THE OPPORTUNITY
Australia is playing a key role in the global effort to eliminate hepatitis C, as one of the first countries to make new highly effective and tolerable hepatitis C treatments accessible to all. The Burnet Institute is a multidisciplinary centre that combines epidemiology, virology, immunology, modelling, and public health principles to address major health problems in Australia and globally, with a particular focus on highly vulnerable populations. It is one of the leading research centres monitoring and evaluating the effect of Australia's ground-breaking hepatitis C treatment access policy.
Burnet's Hepatitis C Elimination group is offering a full-time 3-year PhD scholarship with an anticipated start date in early 2019. The scholarship provides an opportunity to undertake a PhD working within the recently announced Eliminate C Australia program and the NHMRC-funded Eliminate C Victoria program. These programs are both run out of the Burnet Institute but collaborate closely with colleagues at St Vincents' hospital, the Victorian Infectious Diseases Research Laboratory, and Monash University department of Microbiology. The PhD would work with a dynamic, interdisciplinary supervisory team, including epidemiologists and virologists. The project will involve using next generation sequencing and phylogenetic analysis to guide public health decision making and programmatic choices.
The PhD candidate will receive support and mentoring to enrol in a PhD at an eligible university. The Candidate will have access to appropriate coursework, in addition to opportunities to attend conferences and a range of professional development activities.
Viral sequencing and phylogenetic analysis within the Viral Hepatitis Working Group
The discovery of highly effective treatments for hepatitis C have resulted in the World Health Organization developing its first Global Health Strategy to eliminate viral hepatitis, which includes specific targets for countries to achieve. Reaching these targets could result in substantial reductions in transmission, liver disease and deaths. In Australia and some other countries, substantial scale-up of treatment has been observed in the first two years that the new treatments became available, which is expected to translate into reductions in hepatitis C transmission. However, after this initial scale-up period it is important to understand the ongoing drivers of transmission in order to inform the next stage of the response.
The PhD project will be tailored to meet the skills, experience, interests and goals of the successful applicant, but will be designed in a way to directly support the ongoing hepatitis C elimination efforts and the broad goals of the viral hepatitis elimination group. A major focus will be to use whole genome next generation sequencing to answer questions around hepatitis C elimination in key affected populations, to guide elimination strategies locally and internationally. Particular research questions could include identification of transmission clusters, drivers of transmission, and trends in transmission using phylogenetic analysis, understanding how reinfection occurs and who is reinfected, monitoring the emergence of DAA resistance and tracking transmission of resistant strains, and/or other questions relating to within or between host HCV evolution.
CRITERIA
Essential:
An Honours bachelor's degree (First Class) or a Master's degree in Computational Biology, Microbiology, or Genetics
OR
An Honours bachelor's degree (First Class) or a Master's degree in Mathematics, Physics or Computer Science with demonstrated knowledge of microbiology or genetics
OR
An Honours bachelor's degree (First Class) or a Master's degree in a biological sciences discipline with demonstrated computer programming or mathematical modelling experience
AND
Well-developed written and oral communication skills
Desirable:
Bench experience in virology, biochemistry, or genetics particularly in handling of RNA and DNA, PCR, cDNA library preparation, sequencing of DNA and/or RNA, virus culture, cell culture, general molecular biology techniques, ELISA, western blotting.
Evidence of experience in preparing written material, manuscripts for publication and oral presentation of findings.
Prior experience analysing complex data.
Burnet Institute is committed to providing our people with a supportive working environment. We value diversity and gender equity at the institute and provide flexible working arrangements for our staff. Burnet is participating in the Science in Australia Gender Equity (SAGE) Pilot of the Athena SWAN Charter in Australia.
REMUNERATION
AUD $27,084 per annum (equivalent to the NHMRC stipend) for living expenses, tax exempt, for three years, and exempt from tuition fees. Medical/dental applicants may be eligible for a higher stipend rate. Applicants will be expected to apply for national competitive PhD scholarships, including NHMRC Postgraduate Scholarships for funding in 2019. Remuneration level will be increased if the applicant is successful in receiving additional University or NHMRC scholarships.
APPLICATIONS
For more information contact Dr Rachel Sacks-Davis: rachel.sacks-davis@burnet.edu.au.
To apply for this PhD Opportunity CLICK HERE and attach the following documents:
Statement addressing the selection criteria (as outlined above)
Resume including the names and contact details of three referees
A copy of your academic transcript(s)
Applications close 31st January 2019.
As part of our commitment to gender equity, we have included a question in the application process on gender. This will allow us to monitor and report on gender in relation to our recruitment process. This field is not compulsory.
Burnet is a child safe organisation. The successful applicant may be required to apply for a Working with Children check and/or criminal record check from the Australian Federal Police.
Closing Date:

31 Jan 2019
Location:

VIC - Melbourne
Salary:

Stipend $27,084 per annum
Work Type:

Full Time
Category:

Bioinformatics
Biology
Biomedical Sciences
Biostatistics
Computer Science/ICT
Epidemiology/Biostatistics
Fellowships
Genetics
Health/Health Sciences
Mathematics
Microbiology
Physics
Scholarships
Statistics/Modelling
Virology/Infectious disease