First listed on: 02 March 2021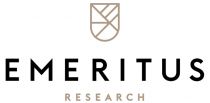 Medical Doctor - Clinical Trials
Opportunity to join a team of energetic and fun medical professionals focused on improving patient outcomes through clinical trials. No clinical trials experience required, our team will train you. All of our trials are phase 2 or later so we are working with medications that have demonstrated efficacy and we see that in our rheum, derm, gastro and general medicine patients. We work with the worlds leading pharma and biotech companies and we were part of many trials that brought today's leading medications to market.
Benefits of the role include:
Low patient volumes that allow you to focus more on specific patients. 1-2 per hour, eg. 8-10 in a 6 hour session.
Flat competitive hourly rate. No need to stress about pushing through patients.
No vocational registration (VR) or medical specialisation required. We only require AHPRA registration.
Emeritus has over 30 clinical trials running and there are always new ones starting which keeps things interesting.
Work on trials across the areas of rheumatology, dermatology, gastroenterology and general medicine with the support of globally recognised specialists.
Consistent hours with flexibility, no nights or weekends.
Work with a motivated and fun team of professionals. All patient visits are done with the support of trial coordinators who manage the routine parts of the visits.
Preferred hours are 8:30am-2:30pm, Mon-Fri, but we are flexible. Full-time applicants are also welcome. Minimum of 2 days per week.
What we need from you:
No clinical trials knowledge required. Our team will train and support you.
No vocational registration (VR) or medical specialisation required. We only require AHPRA registration.
Ability to work well in a team and communicate with patients.
What's involved:
Assessing patient condition with physical examination and medical history.
Reviewing clinical pathology reports, vital signs and ECG reports.
Educating new patients on trials and answering any questions they have.
As you develop in the role you'll have the opportunity to work in other areas like ethics and clinical trial oversight.
Emeritus Research has been running clinical trials for over 25 years and has been a part of over 250 clinical trials. We have an amazing team of 30 staff with 6 medical doctors and a support staff of nurses, PhDs and medical science graduates. In 2019, we opened our new purpose-built clinical trial centre in Camberwell with amazing light and beautiful leafy surrounds. We began in the rheumatology field with Professor Stephen Hall our medical director leading the way, but have broadened over the last 10 years into dermatology, gastroenterology and general medicine trials.
We look forward to receiving your application. Questions can be sent to md@emeritusresearch.com
Location:

VIC
Work Type:

Part Time
Category:

Clinical Research/Trials
Medical Sciences