Water saving boosts birds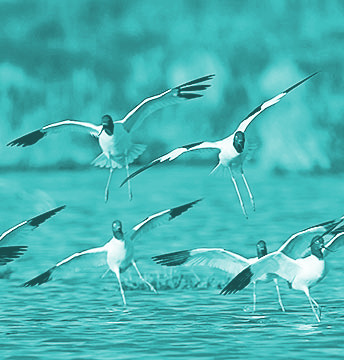 Environmental water has brought a boom time for waterbirds in the Gayini wetlands.
Tens of thousands of breeding waterbirds, including the endangered Australasian bittern, are thriving in the culturally important Gayini (Nimmie-Caira) wetlands in south west NSW.
Researchers say this has been one of the largest colonial waterbird breeding events this year, supported solely by water that has been specifically set aside for the environment.
The event follows a collaborative effort involving UNSW Centre for Ecosystem Science and Charles Sturt researchers, state and federal environmental water managers, and traditional owners.
"This has been a fantastic result for the Basin's waterbird populations and for water management in the Murray-Darling Basin," UNSW Centre for Ecosystem Science Research Fellow Dr Kate Brandis said.
"The fact that we can actually get enough water for the environment to stimulate the birds to breed, and mimic a flood is really promising.
"These birds only breed when flooding conditions are right.
"What would normally happen is we would have lots of rain, a big flood, and then the birds would start breeding. Then we would use environmental flows to either extend the flood duration or top up water levels in colony sites."
She said this event is special because all the water that is currently in the wetlands has come from water for the environment - a component of water that is kept in dams and is marked for environmental use only.
Gayini is an extensive wetland complex between Maude and Balranald in south-west NSW. It is an area of Murray-Darling Basin with state, national and international conservation significance.
As the largest remaining area of wetlands in the Murrumbidgee Valley, within the southern Murray-Darling Basin and provides feeding and breeding habitat for many different species of freshwater birds.
Waterbird breeding in the wetlands was prompted last Spring by above average Spring rainfall complemented with targeted use of 200,000ML of NSW and Commonwealth water for the environment along the Murrumbidgee River in November.
More than 15,000 hectares of wetlands in the Gayini system were inundated by the water for the environment release, as well as a similar area in the adjoining Yanga National Park, reaching as far as Yanga Lake in the lower Murrumbidgee Floodplain system near Balranald.
James Maguire from the NSW Department of Planning, Industry and Environment says the water for the environment release also supported improved aquatic vegetation growth and floodplain wetland health.
"It also created opportunities for native fish, turtles and frogs – threatened southern bell frogs in particular - to breed and move," Mr Maguire said.
"The population growth in Southern Bell Frog in the Gayini wetlands has been another fantastic outcome. Water for the environment has been strategically used for many years and we are finally seeing this threatened species in great numbers across dozens of wetlands from Gayini over to Yanga National Park."