SpaceX speeding to ISS

Print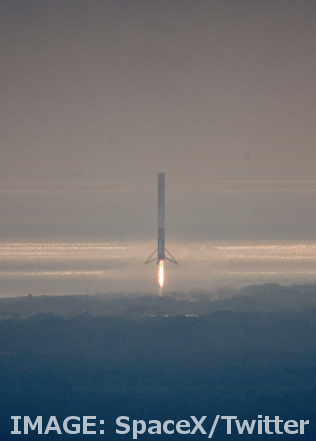 Another SpaceX Falcon rocket is on its way to the International Space Station (ISS).
The private space company has marked its first launch from the Kennedy Space Centre since a dramatic rocket explosion last year.
Cheers erupted as the rocket's first stage separated, changed direction and returned to Earth, stopping upright on a landing pad at the nearby Cape Canaveral Air Force Station.
Minutes later, the SpaceX Dragon supply ship - complete with about 2,500kg of supplies - successfully reached orbit, marking the eighth successful landing for Elon Musk's company.
The space company had to scrap its initial launch attempt earlier on Saturday, when potential faults were found in the rocket's upper stage steering system seconds before launch.
NASA hired SpaceX to fly cargo to the ISS after it own shuttle program ended, and will be closely monitoring the operations ahead of possibly flying NASA astronauts on SpaceX rockets.