Sawfish study to strike at future effects

Print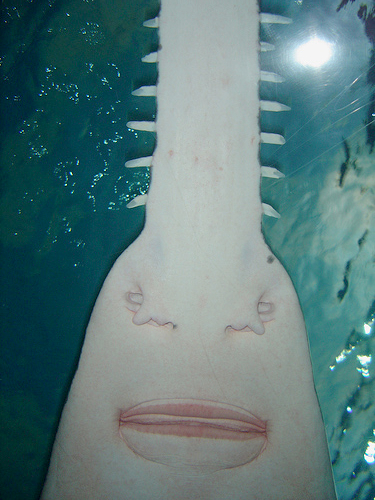 A new research project will plot the effects of climate change on a very rare local aquatic creature.
The new study will clarify the role that future climate variability will play in the population fluctuations of the critically endangered sawfish.
Research will be undertaken across the Kimberley region, testing sawfish resilience to rising temperatures.
The information collected by Dr Adrian Gleiss from Murdoch University's Freshwater Fish Group and Fish Health Unit will also identify which rivers provide the most favourable conditions for the iconic species, to inform future management and development plans.
The three year research project, which is part of an Australian Research Council Discovery Early Career Researcher Award, will also study the effects of climate change on bull sharks in the Fitzroy River.
"To help protect these species and others from the effects of climate change, it is important to understand how increased temperatures can alter their behaviour and physiology," said Dr Gleiss.
"Temperature plays a big role in the way these fish function, influencing a range of biological processes including growth and reproduction. Previous work in the Fitzroy River shows that sawfish use the naturally occurring differences in temperature throughout the river to thermoregulate, so any change in behavior may have a significant impact on the biology of the species.
"For the first time, this project will try to answer how behavioural changes allow these animals to cope with changing environmental conditions. Such behavioural change may underlie the resilience to climate change of many other species and systems globally and the methodology we develop will pave the way for assessments of other animal-environmental interactions."
Innovative technology including tagging, new theory and climate modelling will be used by Dr Gleiss and his collaborators in the $335,000 study.
Sawfish and bull sharks were chosen for the study because of their differences and similarities, said Dr Gleiss.
Sawfish are largely sedentary, spending 50 per cent of their time motionless on the riverbed whereas bull sharks are continuously swimming. Both species occur in the Fitzroy River in their juvenile stages and leave the river before reaching maturity.
Dr Gleiss will also be working with Professor Neil Loneragan and Associate Professor Alan Lymbery from Murdoch's Centre for Fish, Fisheries and Aquatic Ecosystems. Scientists from the University of Western Australia, the University of Melbourne and the Mote Marine Laboratory in the US are also involved in the study.