Research war on Tasmania's water woes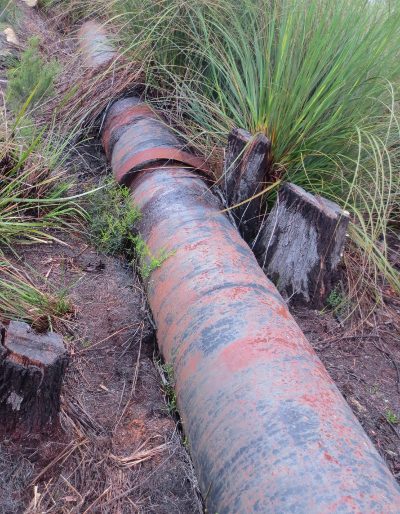 Claims of toxic contamination in Tasmania's drinking water have kicked off an academic war of words.
TasWater has dismissed a Macquarie University report claiming old infrastructure was contaminating drinking water supplies in Tasmania's north-east.
The water boy brought in Water Research Australia for a review of the Macquarie research, which found it did not include enough data.
The review found that the earlier testing was not adequately repeated, while it appears that some samples were taken from storages that no longer supplied the town of Pioneer.
TasWater spokesperson Lance Stapleton said it would stop testing.
"We could spend a lot more money testing, but it's really not going to progress any further towards a solution," he told the ABC.
"The findings of the original research and the review pretty much lead us to the fact we're on the right track - rolling out individual water tanks for each household.
"By doing that you're removing any sources of lead from the environment or any sources of lead from the TasWater infrastructure."
But the authors of the Macquarie study, including Professor Mark Taylor, have released a point-by-point refutation of TasWater's criticisms.
TasWater claimed data from Frame Dam and Moorina Power Station was not relevant because they were not linked to water supplies.
But the researchers say water from the power station definitely could make its way to Pioneer's system, and also that the power station contributed to lead in the water.
TasWater claimed that Macquarie's water sampling method was flawed, but the researchers said their analysis was undertaken at Australia's leading facility.
They said their findings were "robust and clear", especially in regard to the finding that the water was contaminated from within the pipe network, not the catchment.
TasWater claims that leaching of lead from PVC piping was unlikely, but the researchers said international has shown that leaching of the lead from PVC pipes was a well known problem.
The researchers fired back too, criticising TasWater for failing to undertake additional sampling.
At a public meeting in Pioneer, there was more backlash to TasWater's review.
Local resident Vincent Teichmann was vocal in his frustration at how long it was taking for a solution.
"You're saying where does lead come from? Well it doesn't just arrive there from clear blue sky," he said.
"You've analysed other peoples data, have you actually done any testing yourself?
"Have you generated any data, do you have any plans to?
"I'm challenging you, as a scientist, bring the data."
TasWater says the only thing for residents to do is take advantage of a free rain water tank installation scheme.
Professor Taylor said there might be a longer-term use for the money.
"It would be a good use of public money to investigate the contribution of contamination from the infrastructure elsewhere, because we know there are problems elsewhere," he said.
"Because that will help delineate the solution to this problem."