Reef leaks could seed rain

Print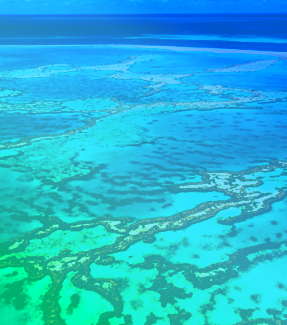 Coral reefs can emit a gas that affects rainfall, biogeochemists have found.
A Southern Cross University team has completed the first long term continuous measurement of the naturally occurring gas dimethylsulfide (DMS) over the Great Barrier Reef.
The properties of the aerosol DMS allow it to grow to the point where it can help in the seeding of low-level clouds.
The researchers say this means DMS may influence the regional climate of the Great Barrier Reef and north eastern Australia.
The results are contained in a paper titled 'Coral reef origins of atmospheric dimethysulfide at Heron Island, southern Great Barrier Reef'.
Working at Heron Island, the researchers used sensitive automated instrumentation to detect pulses of coral-derived DMS above the background DMS naturally derived from the ocean.
The pulses of DMS were usually seen at low tide under low wind speeds, indicating they were derived from the platform reef surrounding the island.
At low tide parts of the reef can become exposed to the air, allowing direct exchange of DMS from coral to the atmosphere.
"The study provides compelling environmental evidence that the Great Barrier Reef is a source of atmospheric DMS, a climate active compound," said researcher Hilton Swan, who undertook the work as part of his doctoral thesis.
"DMS atmospheric oxidation products participate in a climate feedback which can increase low level cloud cover, which can influence solar radiation levels over the Great Barrier Reef."
It is a very important finding, according to director of the Centre for Coastal Biogeochemistry Research, Professor Bradley Eyre.
"The findings from this study are significant because although reefs have previously been thought to be a source of DMS, this is the first long term (two to three weeks) continuous measurements of DMS over the reef."
"This cloud-coral reef feedback could be linked to frequency and severity of El Nino which strongly influences the climate of northern Australia with major implications for agriculture," chemical oceanographer Professor Graham Jones said.
Dr Jones has been investigating DMS on the Great Barrier Reef for more than 20 years.
"This research by Hilton Swan means we can now assess the importance of the GBR to the emission of this gas to the atmosphere over the GBR and assess the magnitude of the coral reef feedback."