Queensland's big floods reviewed

Print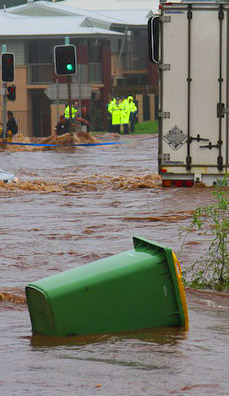 A new report has found recent Queensland flooding had minimal impacts on the Great Barrier Reef.
The Townsville Dry Tropics Report Card 2019 has found that overall, water quality across the Townsville region is moderate to very good.
"The February 2019 flood event saw 1.13 million metric tonnes of water discharged from the Ross River into Cleveland Bay, causing riverbanks to erode and nutrients, sediment and litter from the urban environment to flow into the rivers and marine environment," says chair of the Dry Tropics Partnership for Healthy Waters, Diane Tarte.
"Despite the social and economic impacts of the flood event, research suggests minimal impacts so far to most environments, including offshore coral reefs. Flood plumes reached the outer reef within five days but dissipated five days later."
Seagrass meadows showed a decline in biomass following the floods; however, the overall area of meadows has remained above the long-term average. This was likely due to the good growing conditions from previous years, which provided some resilience within the seagrass ecosystem.
The series of small estuaries in the Ross and Black River basins all scored positively, with a B Grade (Good) for Water Quality and Habitat, while Cleveland and Halifax Bays both have room for improvement, each scoring a C (Moderate) for Water Quality and Habitat.
The offshore marine environment scored the only A (Very Good) in the Report Card, for Water Quality.
Townsville Mayor Jenny Hill said it is encouraging that the environment had bounced back well following the unprecedented monsoon.
"It is comforting to know that despite the amount of water that was discharged, the environment has largely looked after itself – but there are still areas we can look to improve," Cr Hill said.
"Council has been collaborating with Dry Tropics and other organisations to protect our waterways – this includes installing traps to stop litter making it to the ocean and the co-funding of studies that will help reduce pollutants in waters around Townsville.
"We will keep collaborating with other organisations in this space to ensure that our amazing natural environments and waterways can remain healthy."