Price speaks on whale watch

Print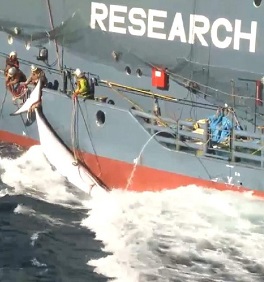 Environment Minister Melissa Price says Australia will not send a ship to monitor Japan's "scientific" whaling hunts.
Conservationists and the Greens want the Federal Government to send a customs ship to watch the Japanese whale hunt this summer.
"Sending a vessel to the Southern Ocean will not stop Japan whaling, nor would it achieve any other policy or legal objectives," Ms Price said.
She said the government pursue legal avenues.
"While the government has not initiated further legal action to date, it is always an option," Ms Price said.
It comes after plans to set up more whale sanctuaries were voted down at a recent meeting of the International Whaling Commission (IWC).
At the same meeting, a proposal by Japan to end the 33-year moratorium on commercial whaling was voted down.
But that means Japan's "scientific" harvesting of hundreds of whales each year will continue.
"In the cold light of day, we are still looking at Japan killing whales in the Southern Ocean and that needs to be challenged," said director of the Australian Marine Conservation Society, Darren Kindleysides.
He said Japan's scientific whaling is "just commercial whaling in disguise".
In 2013, with the Coalition in opposition, then shadow environment minister Greg Hunt criticised the Labor government for not sending a customs vessel to monitor Japan's activities.
Soon after, the Coalition was for also not sending a customs vessel when it took power.
The Greens' environment spokesperson, Sarah Hanson-Young, said the government was ignoring its own suggestion.
"We must prepare to send a vessel to our southern waters and investigate our legal options. In 2018 and beyond, no whales should die from barbaric harpooning," Senator Hanson-Young said.
"If the government refuses to send a vessel to the Southern Ocean and take fresh legal action, Japan will kill hundreds of whales this summer on the Morrison government's watch."
Meanwhile, Japan is reviewing its membership of the IWC.