North Korea claims new cure-all

Print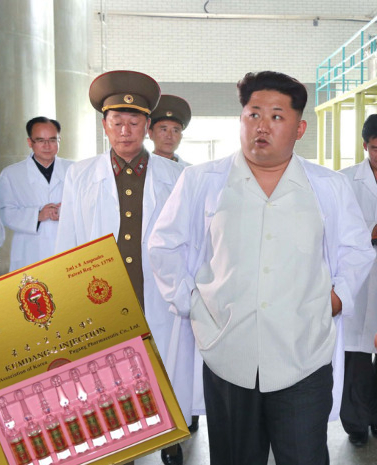 North Korea claims it has developed a vaccine for MERS, Ebola, AIDS, tuberculosis, cancer, morning sickness and a range of other diseases.
North Korean state news agency KCNA says the new Kumdang-2 vaccine can cure almost anything.
Kumdang-2 is made by North Korea's Pugang Pharmaceutic Company, reportedly from extracts of ginseng injected with rare earth elements, and KCNA says it "is very effective in curing diseases caused by malignant viruses".
One of the diseases it allegedly cures is "harm from the use of computers", but this information is contradictorily included on the drug's official website, Kumdang2.com.
"As a strong immune-activator, the injection has been recognised to prevent different malignant epidemics," says Dr Jon Sung-hun, director of the pharmaceutical company.
Reports say North Koreans who have been injected with Kumdang-2 (meaning "golden sugar" in Korean) say they experienced no infectious diseases even when travelling to the areas hit by epidemics.
"This means that Kumdang-2 is effective in coping with the MERS virus," KCNA said.
The Kumdang-2 website encourages North Koreans to use one or two ampoules on the first day before gradually increasing the dosage.
After two days, patients will "feel strong, refreshed and happy," though "some patients may feel that their diseased parts are stimulated to a small extent," the website says.
It warns that some patients ("less than 0.001 per cent of the total") will feel "heavily stimulated at the diseased parts and/or experienced throbbing or stifled feelings at the heart."
"Such feelings were found especially among feeble girls and weak elders," it says.
"They are not side effects, but signs of healing response. Therefore, you should not worry about them."
The site includes an extensive list of conditions that Kumdang-2 supposedly cures, such as; chilblains, diabetes, impotence, "spontaneous gangrene", different kinds of inflammation, "fevers of unknown reasons", loss of appetite, drug addiction, stomach cramps, scars, "neuralgia, neurosis, debility, insomnia", poisoning by perished food, epilepsy, radioactive exposure, and even slow children's growth.
Unfortunately for anyone convinced by the ludicrous claims, the only place to buy the medicine outside of North Korea is Russia.
The site's "where to buy" tab lists a Moscow address and Russian web site that sells a variety of North Korean ginseng products.