Menzies centre opens

Print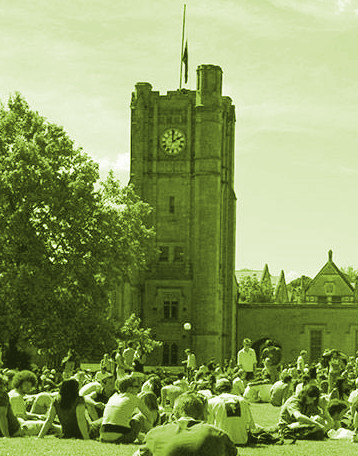 The Robert Menzies Institute has opened at the University of Melbourne this week.
The institute includes a new library and museum commemorating Australia's longest-serving prime minister and founding member of the Liberal Party of Australia, Sir Robert Menzies, who studied law at the University of Melbourne and later served as its chancellor.
Sir Menzies' was Australia's Prime Minister in 1939 to 1941, and again from 1949 to 1966. His legacy is considered controversial for his support for the White Australia policy, his agreement to test nuclear weapons on land occupied by Indigenous Australians, and his refusal to take a position against apartheid.
The opening of the institute came amid serious controversy and student protests against what some see as an attempt by the Liberal Party's to "buy a space of influence" on campus.
The institute was set up with $7 million in federal government funding.
It is a partnership between the Melbourne University and the Menzies Research Centre, which is a self-described "think-tank that champions Liberal principles" that "is affiliated with the Liberal Party of Australia".
The institute's board includes Sky News commentator and former Liberal advisor Peta Credlin, Geoffrey Hone - chair of the Institute of Public Affairs (a right-wing think tank), and David Kemp - a former Howard government cabinet minister.
A group of around 50 students chanted "no cuts, no fees, no corporate universities" at the opening event on Thursday, and were closely monitored by a handful of police officers.
Robert Menzies Institute chief Georgina Downer welcomed a student protest.
"We, of course, welcome [the protest] in the spirit of free speech. It wouldn't be a university campus if it didn't have a student protest," she said.
The gala event launching the institute was well attended by big names in the Liberal party.
Prime Minister Scott Morrison, Treasurer Josh Frydenberg, Education Minister Alan Tudge, former Victorian premier Ted Baillieu and former federal treasurer Peter Costello were all at the event.
Mr Morrison and Mr Frydenberg said they commended Sir Menzies' belief in the contest of ideas in their speeches.
Mr Tudge said Sir Menzies "knew universities had to be ­spaces for argument … They must be custodians for mental liberty and unfettered search for truth. I frankly think he would be aghast at many of the recent trends on university campuses, of de-platforming, hostility to contrary views, shutting down debates".
"It is absolutely contrary to his political philosophy, and certainly it is contrary to mine."