Kids hear the price of poverty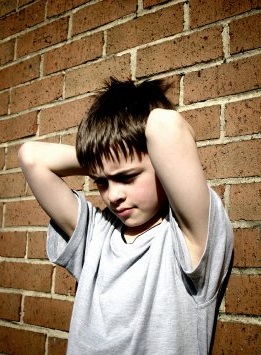 Scientists in the US say that the relative poverty and educational background of a mother can affect the make-up of their child's brain – making it more difficult to process sound.
Taking a neurological slant on a finding from twenty years ago, researchers have linked poor processing of auditory information in the adolescent brain to a lower maternal educational background.
Using maternal education as a proxy for socioeconomic status, researchers observed that the less educated mothers seemed to produce children whose brains were more clouded by 'neural noise'.
"Think about the neural noise like static in a radio - with the announcer's voice coming in faintly," Nina Kraus, Professor of Neurobiology, Physiology and Communication Sciences and author of a study now published in the Journal of Neuroscience.
"Neural models indicate that when the input to a neuron is noisier, the firing rate becomes more variable, ultimately limiting the amount of sensory information that can be transmitted."
It has been suggested that children from poorer backgrounds are exposed to more unstructured noise from industrial surrounds or higher-density housing, and children from more wealthy backgrounds are exposed to a higher quantity and quality of language. This reduction of language input, along with greater exposure to unstructured sound such as ambient noise, may be affecting how the brain represents auditory information.
"These adolescents had noisier neural activity than their classmates, even when no sound was presented."
"If your brain is creating a different signal each time you hear a sound, you might be losing some of the details of the sound," said Erika Skoe, assistant professor of speech, language and hearing sciences at the University of Connecticut, and lead author of the study.
"Losing these details may create challenges in the classroom and other noisy settings."
The neuroscientific assessment is an update to findings made nearly two decades ago; linking a mother's educational background to her children's literacy and cognitive abilities. The original claim stands out for many, surrounded by decades of social science studies demonstrating the adverse effects of poverty.
A landmark study in 1995 revealed that children in high-income families are exposed to 30 million more words than children from families on welfare. This reduction in the quality and quantity of language input, along with greater exposure to unstructured sound such as ambient noise, may be affecting how the brain represents auditory information.
The research contributes to a recent wave of findings on the sociocultural factors which influence brain structure and function.
"By studying socioeconomic status within a neuroscientific framework, we have the potential to expand our understanding of the biological signatures of poverty," Professor Kraus said.
"And a better understanding of how experiences shape the brain could inform educational efforts aimed at closing the socioeconomic achievement gap."
Further information from the recent research is available in the report, titled 'The Impoverished Brain: Disparities in Maternal Education Affect the Neural Response to Sound'.