Hot study plots warming work risks

Print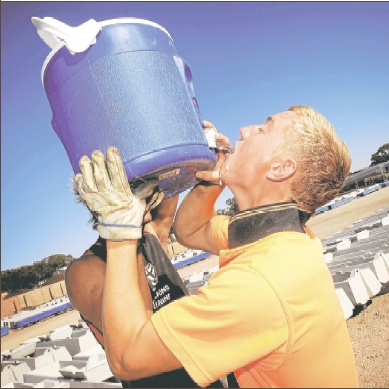 Experts say hot conditions make for more dangerous work.
A new study has linked data from worker compensation claims with temperature records, and found an association between hotter temperatures and an increase in injury claims.
"We looked at the worker compensation claims for those who commonly work outdoors, including construction workers, farmers, emergency services officers and utility employees," says University of Adelaide researcher Professor Peng Bi.
"What we found was that once the mercury approached 37.7°C, there was a considerable increase in injuries recorded."
Fellow Adelaide researcher Dr Jianjun Xiang has conducted a survey among Australian occupational health and safety (OH&S) specialists about workplace heat exposure.
He found 90 per cent of the OH&S specialists surveyed were concerned about extreme heat and staff safety. The paper was published in the journal PLOS ONE.
"We surveyed 180 OH&S specialists who provide advice on heat stress management to industries and almost all of them were at least moderately concerned about extreme heat, and 19 per cent suggested a need for improvement of current heat stress prevention measures in their workplace," says Dr Xiang.
Professor Bi says it is clear from this research that more needs to be done to protect workers in extreme heat.
"There are numerous measures that can be put in place to protect workers from heat-related injuries, including adjusting work hours, taking more breaks, providing good hydration and offering more flexible work arrangements," says Professor Bi.
"We know that many companies do have heat-exposure policies but this research demonstrates a need for a better nation-wide policy."