Fires mute climate talk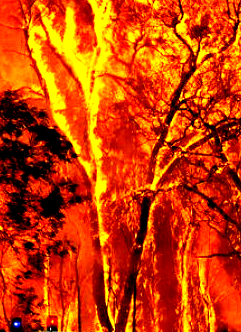 Bushfires on the east coast of Australia may take months to fully extinguish, authorities say.
New South Wales fire chief Shane Fitzsimmons says: "The real challenge is we have an enormous amount of country that is still alight. They won't have this out for days, weeks, months. Unfortunately the forecast is nothing but above-average temperatures and below-average rainfall over the next few months and we've still got summer around the corner."
Respondents are already stretched thin, called to respond to hundreds of blazes in the last two weeks.
Fires in NSW have already covered four times the land area that burned during the whole of 2018, according to Mr Fitzsimmons. Fires have erupted in Queensland, Western Australia, South Australia and the Northern Territory as well.
The extreme and persistent drought on the east side of Australia has left vast areas tinder-dry, with forests, grasslands, and farmland vulnerable to dry lightning strikes or accidental blazes.
Bushfires are fixture of Australian summers, but the intensity of this year's fires, and how early in the season they have broken out, leaves some to ask questions.
Current changes in the global climate are expected to make dry conditions even dryer and longer-lasting. While no specific bushfire can be attributed solely to man-made climate change, it is well-established that it could impact the nature and duration of fires.
It has become controversial to raise the impact of climate change in potentially exacerbating Australia's fire vulnerability.
Prime Minister Scott Morrison has so far refused to answer questions on climate change worsening fires.
Deputy prime minister Michael McCormack this week said people who raise concerns over climate change while fires are burning are a "disgrace".
"They don't need the ravings of some pure, enlightened and woke capital city greenies at this time," he said.
On the other side, WA Greens senator Jordon Steele-John branded major party politicians "arsonists" during debate on the federal government's proposed laws to crack down on energy companies.
"How dare any of you suggest that in this moment at this time it is appropriate to be prosecuting a piece of legislation with the aim of propping up coal," Senator Steele-John told the chamber.
"You are no better than a bunch of arsonists – borderline arsonists – and you should be ashamed."
NSW Premier Gladys Berejiklian said earlier this week that there is a "time and a place" to discuss climate change.
"For any of us on the ground, speaking to people traumatised, speaking to people fighting fires for weeks … know exactly what the priorities should be, and that is saving life and property and we can have these discussions any other time, let's focus on making sure our communities are safe," she said.