Experts want end to overdiagnosis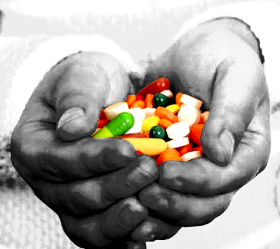 Australian clinicians want a serious focus on the problems of overdiagnosis and related overtreatment.
Overdiagnosis happens when people are diagnosed with conditions that would not harm them, leading to unnecessary treatments that can cause more harm than good.
One example is thyroid cancer, where there is evidence that many people are diagnosed and treated unnecessarily for very small tumours that are in fact benign.
"Alongside the undisputed ability of healthcare to extend human life and ameliorate suffering" a new statement from experts says, "there is growing evidence and concern about the problem of too much medicine."
"Overdiagnosis and the related overuse of medical tests and treatments not only causes harm, but also divert resources from addressing underdiagnosis and undertreatment."
Development of the statement – printed in full below – was facilitated by the NHMRC and has been initially endorsed by five leading health organisations including the Consumers Health Forum (CHF), The Royal Australasian College of Physicians (RACP), the Royal Australian College of General Practitioners (RACGP), the Royal Australian and New Zealand College of Radiologists (RANZCR) and the Australian Commission on Safety and Quality in Healthcare (ACSQHC).
"This is the first coordinated national effort to address a problem now recognised worldwide as a significant threat to healthcare," says Professor Kirsten McCaffery, a member of the NHMRC team.
The statement notes that a key driver of the problem of overdiagnosis is expanding disease definitions and lowering diagnostic thresholds which label more previously healthy people as sick.
A series in the British Medical Journal has raised concerns about this problem across a range of conditions including pulmonary embolism, attention deficit hyperactivity disorder, chronic kidney disease, depression, high blood pressure and osteoporosis.
Another driver is the increasing sophistication of imaging tests that pick up abnormalities that are just as common in people with and without symptoms, but may be mistakenly interpreted as something that needs to be treated, for example in people with back pain.
"The problem of too much medicine is driven by many factors – including the best of intentions" says researcher Dr Ray Moynihan, from Bond University.
"But there is now a growing global consensus to start addressing the problem of too many unneeded tests, treatments and diagnoses, which not only threaten human health, but also health system sustainability."
Initial Statement to underpin the development of a National Action Plan to Prevent Overdiagnosis and Overtreatment in Australia
Statement Endorsed by foundation organisations: CHF, RACP, RACGP, RANZCR, ACSQHC
Alongside the undisputed ability of healthcare to extend human life and ameliorate suffering, there is growing evidence and concern about the problem of too much medicine. Overdiagnosis and the related overuse of medical tests and treatments not only causes harm, but also divert resources from addressing underdiagnosis and undertreatment
There is need in Australia to identify the causes of too much medicine, the extent of the problem, and to develop responses to address it
There is an urgent need to better inform consumers, clinicians, decision-makers and the public about the evidence for, and the consequences of, overdiagnosis and related overtreatment, as part of a broader approach to inform people about the potential harms, as well as the benefits of medical tests and treatments
Expanding disease definitions and lowering diagnostic thresholds are recognised as one driver of the problem, and the processes for changing definitions require meaningful reform
We are committed to evaluation, to ensure that attempts to address too much medicine are both safe and fair for healthcare consumers and their families, and in turn help to optimise the Australian health system's safety, efficiency and equity of access