Ebola response left wanting, but NZ may have the key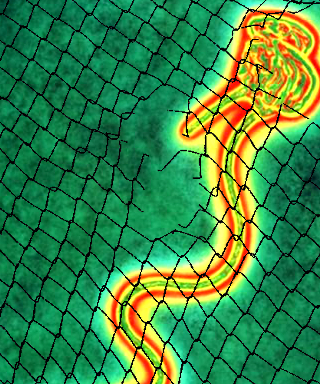 New Zealand scientists have developed a portable, rapid, DNA testing device for Ebola.
One of the biggest factors in the outbreak decimating West African populations is the inability to spot it quickly enough.
Now a device called Freedom4, developed at NZ's University of Otago, will help workers in the field identify the DNA sequences of diseases such as Ebola.
Dr Jo-Ann Stanton has told ABC reporters that her research team spent six years developing the device, and they are confident it would help stem the spread of Ebola, if they can gain approval.
"We can be out in the field, detect someone really early that they've been infected with Ebola and get them to the right treatment much more quickly," Dr Stanton said.
"Pretty much we can have a test result in an hour and a half - that's from a blood sample.
"That's going to have a real impact on whether they survive or not."
Dr Stanton has travelled to Washington to help a laboratory there evaluate the effectiveness of Freedom 4, as part of the path to approval from the US Food and Drug Administration.
The US government has pledged to fast-track tests of any technology that could help with the Ebola crisis.
Meanwhile, Australian Government policies are not helping at all.
The Federal Government has announced that it will no longer process visa applications for people travelling to Australia from Ebola-affected countries.
The move effectively bans citizens of Sierra Leone, Liberia and Guinea form entering Australia, regardless of their health.
Despite no cases of Ebola occurring in Australia and the country having a health system that is more than capable of dealing with a potential outbreak, the Government response is one of fear and trepidation.
But there is a lack of logic that is difficult for many to ignore.
If the goal is to avoid infection, than assuming that no infected person will ever reach Australia might only delay the inevitable.
To avoid this self-fulfilling prophecy, some suggest Australia should help deal with the outbreak at its source, rather hoping the walls are high enough.
Another point in favour of choosing mass-compassion over panic is the fact that if authorities do not deal with the West African Ebola outbreak soon, the virus could become endemic - meaning it is transmitted at low levels in humans all the time, continues mutating and would require unending efforts to avoid.
But Prime Minister Tony Abbott, Foreign Minister Julie Bishop and Immigration Minister Scott Morrison continue to avoid repeated requests to send medical personnel to help.
Now, the United Nations says Australia's new measures to block visas will actually discourage vital relief work, making it harder to stop the spread of Ebola and working against the aim of the immigration ban itself.
"Anything that will dissuade foreign-trained personnel from coming here to West Africa and joining us on the frontline to fight the fight would be very, very unfortunate," Anthony Banbury, head of the UN Ebola Emergency Response Mission (UNMEER), told news agency Reuters in the Ghanaian capital Accra.
Liberia's president Ellen Johnson Sirleaf said: "Anytime there's stigmatisation, there's quarantine, there's exclusion of people, many of whom are just normal, then those of us who are fighting this epidemic, when we face that, we get very sad."
Sierra Leone's information minister said; "It is discriminatory."
"It is not [going] after Ebola but rather it is ... against the 24 million citizens of Sierra Leone, Liberia and Guinea," information minister Alpha Kanu said.
"Certainly, it is not the right way to go."