Drug combo shrinks tumours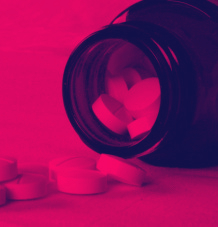 A new combination of targeted drugs has been shown to reduce ovarian cancer tumours.
The combination of drugs - which both work by blocking signals cancer cells need to grow - could offer a new treatment option for women with an uncommon type of ovarian cancer that rarely responds to chemotherapy or hormone therapy.
A Phase 1 trial by The Institute of Cancer Research in London and The Royal Marsden NHS Foundation Trust has tested the drugs - called VS-6766 and defactinib - in 25 patients with low-grade serous ovarian cancer.
Low-grade serous ovarian cancer is an uncommon form of cancer that tends to develop at an earlier age than other types of ovarian cancer. Less than 13 per cent of patients respond to chemotherapy and less than 14 per cent respond to hormone therapy.
Overall, nearly half (46 per cent) of patients saw their tumours shrink significantly in response to the treatment.
Responses in patients who had a mutation in a gene called KRAS were even more promising. KRAS is one of the most commonly mutated genes in cancer, found in one quarter of all tumours. Until recently KRAS-driven tumours were extremely difficult to treat.
Nearly two-thirds of patients with a KRAS mutation (64 per cent) saw their tumour shrink following treatment - suggesting that tumour profiling could be used to identify patients most likely to benefit from the new drug combination.
Participants lived an average of 23 months before their cancer progressed.
It is unusual to see such positive clinical responses in Phase 1 clinical trials, which set out to determine the safety of the treatment, and establish the dose that can be tolerated without unmanageable side effects.
Researchers at the ICR and The Royal Marsden recently established that VS-6766 remains active in the body for extended periods and can be given in an unconventional, innovative, twice-weekly schedule to deliver its potent anti-tumour effects while minimising side effects. Patients also received defactinib twice daily.
In the US, the combination of VS6766 and defactinib has already received breakthrough therapy designation by regulators, which aims to accelerate the development and approval of highly promising drugs.
"If these findings are confirmed in larger trials, they'll represent a significant advance in low-grade serous ovarian cancer treatment," says Dr Susana Banerjee, Team Leader in Women's Cancers at The Institute of Cancer Research.
"I am delighted that this drug combination has worked so well in a group of patients who are in urgent need of new treatments.
"We're very hopeful that this could become the standard of care for women with low-grade serous ovarian cancer."
The results are being presented at the 2021 European Society for Medical Oncology Congress (ESMO).