Codeine switch reviewed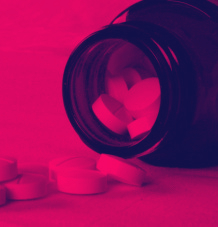 Stats show the move to prescription-only codeine in Australia has seen a 50 percent reduction in the monthly rate of codeine-related poisoning calls.
Codeine is an opioid drug often found in pain killer and cold and flu medication, or cough mixtures.
Prior to the legislative changes, codeine was the most commonly used opioid analgesic in Australia, with consumption exceeding that of the United States despite Australia having a population seven percent the size of the US.
The February 2018 changes followed a lengthy consultation and mean that people needing low-strength codeine must now first obtain a prescription from their GP or health care provider.
A new study is the first peer-reviewed research to examine the short-term implications of the removal of over-the-counter sales of low-strength codeine in February 2018.
Researchers from the University of Sydney, New South Wales Poisons Information Centre (NSWPIC) and the University of New South Wales looked at intentional poisoning and purchase behaviour by analysing call data from the NSW Poisons Information Centre and national sales data.
Lead author Dr Rose Cairns said the data paints a positive picture of the impact of the legislative changes.
"We saw a massive and abrupt reduction in codeine poisonings following the 2018 move to prescription-only sales," said Dr Cairns, a lecturer in Sydney Pharmacy School and Director of Research at the NSW Poisons Information Centre.
"Interestingly, and despite what many predicted, we didn't see an increase in poisonings with higher-strength codeine or stronger opioids, so it really is a good news story.
"The sales data also showed a similar picture. There were big reductions in sales of low-strength codeine, with no increase in sales of higher strength codeine."
In the 12 months following the changes the researchers found:
50 per cent reduction in the monthly rate of codeine-related poisoning calls
79 per cent decrease in low-strength poisoning calls with no significant change in high-strength poisoning calls (only low-strength codeine products containing ≤ 15mg codeine per dose unit were affected by the legislative change)
no significant increase in poisoning calls with other pharmaceutical opioids
no significant change in the codeine dose taken in intentional poisonings
In regard to sales in the 14 months following the changes, researchers found:
overall codeine sales halved
low-strength codeine sales decreased by 87 percent
there was no change in sales of higher strength preparations