Bone pen draws on healing repairs

Print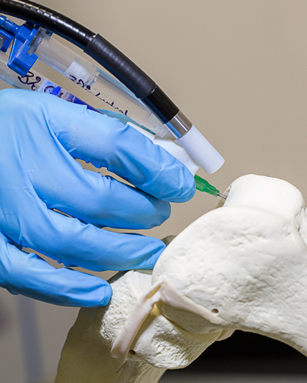 A new device under development in Victoria will enable surgeons to fix broken bones by drawing on them.
Researchers from the University of Wollongong are conducting trials of their new 'biopen'; a pen-shaped device which is filled with stem cells and substances for creating bone structure.
The biopen can be used to simply draw over the broken or cracked bone and fill the gaps with a 3D scaffold of new bone. A mounted UV light cures the material immediately after it is deposited.
The pen is essentially a handheld 3D-printer filled with stem cells, a seaweed extract and protective gel.
Professor Peter Choong has been conducting clinical trials at St Vincent's Hospital in Melbourne.
"The biopen allows the surgeon to fill that gap, to sculpt that and personalise the reconstruction to the dimensions of the patient in real time," Prof Choong said.
"In the long term, we hope to use the biopen to actually print out material that helps create the bone with cells in it ... which is a very novel concept.
"This provides a new way we can look at reconstructing patients, and how we can reconstruct them in a way that preserves as much of their own tissue as we can and bring them back to normality as closely as we can."
The incredible stem cell ink has been used in a 3D-printing scenario where it was able to regrow cartilage in animals.
Australian Research Council Centre of Excellence for Electromaterials Science director Professor Gordon Wallace said this, as with many important discoveries, came from collaboration and communication between different university and industry interests.