Better scan to hone bone cancer hunt

Print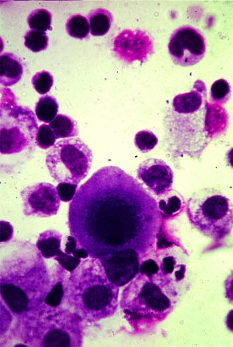 A new type of magnetic resonance imaging (MRI) scan can take a fresh look at the whole body, to help plot the spread of cancer among other duties.
The new whole-body, diffusion-weighted MRI scans showed the spread of cancer throughout the bone marrow of patients with myeloma - one of the most common forms of blood cancer - more accurately than previous tests.
The scans also show how well patients are responding to cancer treatments.
In recent trials of the new device in the UK, doctors could pinpoint exactly where cancer was in the bones, with the results available immediately.
Conventional tests include bone marrow biopsies and blood tests but neither shows accurately where the cancer is.
Researchers also assessed the visible changes on the MRI scans, using a measurement called the Apparent Diffusion Coefficient (ADC). Changes in this measurement correctly identified treatment response for 24 of 25 myeloma patients.
The new scan was able to visualise cancer in almost all bones in the body, with only the skull remaining difficult to image partly because of the frequency of metal dental implants and fillings.
Researchers have also found the new method is suitable for more patients than conventional tests; for example, seven patients had bone marrow biopsies but their samples were found to be inadequate for analysis. Performing another biopsy could be traumatic and painful, and may not provide any new information.
"This is the first time we've been able to obtain information from all the bones in the entire body for myeloma in one scan without having to rely on individual bone X-rays. It enables us to measure the involvement of individual bones and follow their response to treatment,"
"The results can be visualised immediately; we can look on the screen and see straight away where the cancer is and measure how severe it is.
"The scan is better than blood tests, which don't tell us in which bones the cancer is located. It also reduces the need for uncomfortable biopsies, which don't reveal the extent or severity of the disease," says Prof Nandita deSouza, a Professor of Translational Imaging.
Julia Frater, Cancer Research UK's Senior Cancer Information Nurse, says; "Finding kinder ways to monitor how patients respond to treatment is really important, particularly in the case of myeloma where taking bone marrow samples can be painful."
"This research demonstrates how an advanced imaging technique could provide a whole-skeleton 'snapshot' to track the response of tumours in individual bones. Finding ways to make treatments gentler and improve the experience for patients is an important focus for Cancer Research UK and the research we fund."