Award for MOFs moves

Print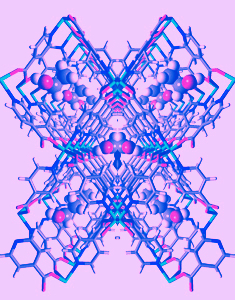 An Australian researcher has been honoured for his work on solid materials made almost entirely out of holes.
Associate Professor Matthew Hill - a chemical engineer at Monash University and principal research scientist at CSIRO Manufacturing - has as won the inaugural David and Valerie Solomon Award.
Associate Professor Hill will receive $15,000 and 12 months mentoring from a senior entrepreneur/industry Fellow of the Australian Academy of Technology and Engineering, with $5,000 in travel expenses to enhance this mentoring experience.
Dr Hill and his team scored the prize for work on materials known as metal organic frameworks (MOFs).
MOFs are the world's most porous materials – structured so that they are almost entirely made of holes. One teaspoon of a MOF may have as much surface area as an entire football field hidden inside it.
Like a sponge, MOFs can store and release molecules such as hydrogen on demand, such as fertilisers or fuels; or like a sieve, the pore sizes can be used to separate one thing from another, such as natural gas from impurities or carbon dioxide from an exhaust stream.
"Not only can our MOF membranes separate lithium ions from water so that they can be used to make batteries, we've also shown that we can put these membranes inside lithium batteries and improve their lifetime and capacity," Dr Hill said.
Dr Hill invented a new chemical processing technology to produce MOFs at 10kg per hour, enabling commercial use.
"We're working with a local business, Boron Molecular to scale up manufacturing of our crystals," Dr Hill said.
Potential uses are already emerging – one of the most intriguing of which is the potential application in lithium mining.
Most lithium is currently produced from lithium brine in a labour-intensive process that requires vast evaporation ponds.
Estimates suggest Dr Hill's technology could replace 4000 hectares of pools with a filtration unit just 0.1 square kilometre in size.
The research engineer has 105 publications, 4150 citations (h-index 35), 13 patents (two licences granted) and involvement in 43 projects worth more than $20 million.