Academic freedom case heard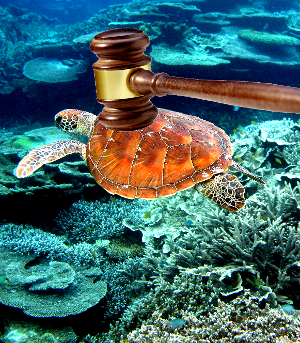 Marine physicist Peter Ridd has had his day in the High Court against James Cook University.
Dr Ridd was awarded $1.2 million in compensation in 2019 after courts found he had been unfairly dismissed the year before; sacked over comments he made that were critical of his colleagues' research on the Great Barrier Reef.
Dr Ridd wrote an opinion piece in November 2017 that challenged the prevailing understanding of the state of the Great Barrier Reef, drawing attention to what he argued was a reproducibility crisis and certain specific papers relating to the state of the reef.
He has previously told reporters that research bodies like the Australian Institute of Marine Science (of which he used to be a member) could "no longer be trusted" and privately accused colleagues of "doom science about the Great Barrier Reef".
The university said this broke its code of conduct, but Dr Ridd countered with the claim that the university broke the law by breaching its employment agreement and failing to protect academic freedom.
The compensation ruling was overturned by an appeal, which led him to take his grievances to the High Court.
In a hearing this week, Dr Ridd's counsel argued that the sacked professor could not have shattered the accepted wisdom on the Great Barrier Reef in a "polite and courteous way".
Dr Ridd entered the High Court in Canberra flanked by Queensland crossbench MP Bob Katter, Institute of Public Affairs executive director John Roskam, and dozens of supporters.
His work as a marine physicist has seen him conduct numerous studies of the Great Barreir Reef since 1984. He believes it not endangered.
"If we win or lose, it will have significant consequences. If we win, it will be good for freedom of speech, robust debate, free up the university system," Dr Ridd told news Corp rpeorters outside of court.
"If we lose it will essentially tell Australia that academic freedom is not an important thing."
Dr Ridd's barrister, Stuart Wood QC, argued that Dr Ridd's enterprise agreement with James Cook overrides its staff code of conduct when it comes to matters of free speech.
"Sometimes an academic has to say something is wrong and give the reasons why it is wrong," he told the court.
"The reasons it's wrong may be that the research is fraudulent, the research has a funding bias, that the researcher might have been negligent.
"As an operation of the ideas clashing, the truth emerges … but reputations are damaged as one side is proved to be wrong.
"That can't be done in a respectful and courteous way."
James Cook University brought in barrister Brett Walker – who has represented cabinet minister Christian Porter and Catholic cardinal George Pell in recent case – to argue against the appeal.
Mr Walker told the court that the code of conduct does in fact protect free speech, if it does not vilify colleagues.
"One person's chilling effect is another person's appropriate restraint," he told the court.
"There is not a right to harassment, vilification, bullying, or vilification … it's particularly easy to see how vehement statements on corrupt or incompetent research of a colleague might be regarded as vilification.
"There are limits in the exercise of intellectual freedom."
The High Court has retired to consider its verdict but has not set a date for its judgement.