'Death spiral' denied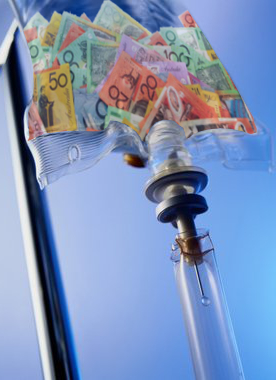 The Health Minister says current measures are enough to counteract a private health system "death spiral".
Grattan Institute analysts Dr Stephen Duckett and Kristina Nemet have issued a paper (PDF) on Australia's private health insurance (PHI) regime, warning the sector is in steep decline due to young, healthy people continue dropping their cover.
It describes an "unhappy mix" of partially public and partially privatised health care and a system "riddled with inconsistencies and perverse incentives".
The data shows that all age groups over 65 are increasing their insurance, while remaining Australians reduce their coverage.
Around 5 per cent of young people are dropping their health cover each year, Dr Duckett said.
"Which means the risk pool, the money that everybody pools, is getting worse in the sense that younger people are paying more now and getting less," he told the ABC.
The report says the Federal Government must decide whether the purpose of the private system is to complement or substitute the public one.
The private sector is subsidised by around $9 billion a year - $6 billion for private health insurance rebates and $3 billion for inpatient private medical services.
About half of all Australians have private health insurance that covers services not taken in by Medicare - including dental, optical and allied health services such as physiotherapy. Less than half have hospital cover.
The report concludes that it is unlikely taxpayer subsidies of private health insurance have reduced the total spending on health.
"Ultimately, the final judgment about the value of subsidies for PHI will involve balancing the net benefit relative to the net costs, both to government and society, taking into account who pays, the role of government, and the value placed on the complementary role of private care," the analysts said.
Health Minister Greg Hunt insists his government's reforms will help.
"These reforms include youth discounts, better access for people in the regional areas, easier to understand classification system for policies and better access to mental health," he said.
"Work has already commenced with the healthcare sector to identify and implement the next wave of positive reforms for private healthcare to continue to improve the affordability and value for consumers and ensure the system remains sustainable."
The Consumers Health Forum says the report shows the need for a Productivity Commission inquiry.
"There are suggestions that private cover facilitates 'queue jumping', providing access to care in public hospitals based on insurance status rather than patient need," chief executive Leanne Wells said.
"Australians must ask whether we want to live with such a broken system."
Australian Healthcare Reform Alliance chair Jennifer Doggett suggests private health subsidies could be dropped entirely, and the industry's 'death spiral' be allowed to run its course, so that that billions spent on it can be used somewhere else.
"Greg Hunt could let it die a natural death and think about how he can put the current $11 billion PHI subsidy to better use," Ms Doggett wrote in an article for the Saturday Paper.
She said a large proportion of Australians favour redirecting the money to establishing a Medicare dental scheme.
"Another option would be to use the subsidy to directly fund hospital care, paying a fixed rebate to the hospital of a consumer's choice, whether public or private.
"In fact, without the expensive and inefficient PHI system, healthcare in Australia could deliver better value to consumers with far greater transparency, equity and accountability."