Sub study plugs nuclear option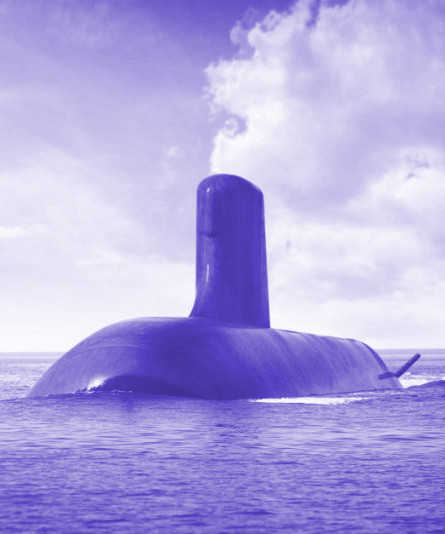 Australia's $80 billion Future Submarine Program is "dangerously off track", according to a new report.
The study by Insight Economics says that the current plan to build 12 'Attack' class submarines is at "high risk" of failing.
The Attack-class subs are intended to replace Australia's fleet of 'Collins' class machines. The Collins-class fleet of 12 submarines were the subject of many incidents and technical problems, including accusations of foul play and bias during the design selection, improper handling of design changes during construction, major capability deficiencies in the first submarines, and ongoing technical problems throughout the early life of the class.
These problems were compounded by the inability of the Australian Navy to retain sufficient personnel to operate the submarines. By 2008, only three could be manned, and between 2009 and 2012, two or fewer were fully operational.
Now, a report into the Attack-class subs has been produced by Insight Economics for a group called Submarines for Australia, which was founded by Gary Johnston, the owner of Jaycar Electronics.
The group was formed in the hope of avoiding another fiasco like the one that occurred with planned acquisition of Super Seasprite helicopters for the Navy. In that case, after outlaying $1.4 billion, Australia did not receive a single helicopter.
Mr Johnston says that not only is Australia heading for an inevitable capability gap, there is a "high risk" that the plan to buy subs from a French manufacturer will fail.
After initially promising 90 per cent local content, the French government-owned company, Naval Group, has shown an "extremely low level of commitment" to Australian industry participation in the project, the report says.
It also found that that the budget for the program has jumped by 60 per cent in two years and two project milestones have been missed already.
An earlier auditor-general's report showed the Future Submarine Program is already running nine months late, and that the $396 million spent so far has not been shown to be "fully effective".
"The Government's own advisory body, including three American admirals, even recommended the Government should consider walking away from the project," Mr Johnston said.
The report spells out a proposed "Plan B", in which Swedish company Saab Kockums, which designed the Collins-class submarines, would create an updated design for the future submarine fleet.
It proposes that in 2022-23, both Naval Group and Saab would present preliminary design studies for their respective designs, together with a fixed price tender for building the first batch of three submarines in Adelaide. The selection between the two designs would then be based on capability, delivery and local content, as well as price.
The report also raises concerns about whether the new submarines (whoever builds them) will be fit for purpose in the 2030s and beyond. To address this, it calls for the review of submarine technologies flagged in the last Defence White Paper to be brought forward to the present.
Mr Johnston said that with China seeking to deny access to the South China Sea by investing heavily in advanced ships, aircraft and satellites, Australia must move into a new technological era.
"If the government wants to continue deploying submarines to this theatre alongside the US Navy, the nation's duty of care to the dedicated men and women of the ADF means we will need to begin the long and difficult process of acquiring nuclear-powered submarines," Mr Johnston said.
Australia's design tender specifically excludes nuclear-powered subs due to the lack of a local nuclear industry and public opposition to nuclear technology in Australia.
The option of nuclear propulsion effectively gives submarines an unlimited range and endurance, only having to resurface for maintenance and human crew requirements like resupply and rest. They also do not have surface to recharge batteries, as diesel-powered subs do, avoiding a potential vulnerability.
The current plan is to use Naval Group's Shortfin Barracuda, which is essentially the Barracuda-class nuclear submarine with its nuclear generators replaced with diesel.
Mr Johnston says Australia should embrace the nuclear option.
"With our very small nuclear industry, that will not be easy. But we can make a start. If the government accepts this proposal, I will commit to endowing a Chair in nuclear engineering at an Australian university," he said.
The full Submarines for Australia report is accessible in PDF form, here.