CSIRO Postdoctoral Fellowship in Plant Pathology in Weed Biological Control - [Archived Advertisement]
First listed on: 13 June 2019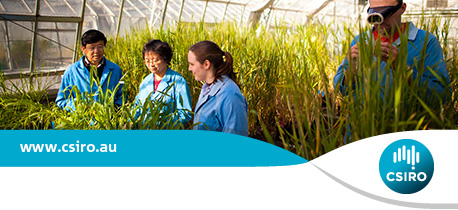 CSIRO Postdoctoral Fellowship in Plant Pathology in Weed Biological Control

The Opportunity
Are you skilled in plant pathology, particularly focusing on fungal pathogens?
Prestigious Postdoctoral Fellowship on offer - kick-start your research career
Join CSIRO for this exciting postdoctoral fellowship!
The Position
CSIRO Early Research Career (CERC) Postdoctoral Fellowships aim to develop the next generation of future leaders of the innovation system.
As a postdoctoral fellow, you will join CSIRO Weed Biological Control Team in the Health & Biosecurity division.
You will have a doctorate (or will shortly satisfy the requirements of a PhD) in plant pathology, preferably with a focus on fungal pathogens in the context of weed biological control.

In this promising role, you will be expected to conduct innovative research using the latest advances in plant pathology to contribute to a large project to develop science-based biological control solutions for a range of weed targets. The research will involve prioritisation and screening of isolates, specificity tests and mycoherbicide development.

You will not only lead components of existing projects but also have an excellent opportunity to learn developing new projects and to write competitive grant proposals while also collaborating with scientists within Australia and across the world.

If you are willing to conduct a radical research and can travel for extended periods for fieldwork within Australia, then this is the opportunity for you!
Your duties will include
• Under the direction of Research Scientists, carry out research in laboratory, controlled environment conditions and field.
• Identify and select promising biological control agents for specific target weeds (i.e. Sporobolus spp.) and demonstrate their safety (host-specificity) and efficacy as novel management tools.
• Contribute to fieldwork across a range of ecosystems, including in remote locations in Australia.
• Collect and manage data, and undertake appropriate statistical analyses to synthesize results.
• Undertake regular reviews of relevant literature.
• Produce high quality scientific papers suitable for publication in international peer-reviewed journals and contribute to reports.
Location: Brisbane, QLD
Salary: AU$ 83,687 – AU$ 94,679 plus up to 15.4% superannuation
Tenure: Specified Term of 3 years
Reference: 61915
To be successful you will need
Under CSIRO policy only those who meet all essential criteria can be appointed. The detailed essential criteria is specified in the attached Position Description.
1. A doctorate (or will shortly satisfy the requirements of a PhD) in a relevant discipline area, such as plant pathology, preferably with a focus on fungal pathogens in the context of weed biological control.
Please note: To be eligible for this role you must have no more than 3 years (or part time equivalent) of postdoctoral research experience.
2. High level written and oral communication skills with the ability to represent the research team, including the presentation of research outcomes at conferences.
3. A sound history of publication in peer reviewed journals and/or authorship of scientific papers, reports, grant applications or patents.
4. Demonstrated laboratory and field-based research experience in plant pathology, with a focus on fungal pathogens and preferably relevant to weed biological control.
5. Ability to independently undertake rigorous investigations in plant pathology
6. Demonstrated understanding of pathogen biology and life-history to enable efficient investigations.
7. Demonstrated experience in experimental design and statistical analysis.
8. Demonstrated ability and willingness to conduct fieldwork across a range of terrestrial ecosystems, including in remote locations in Australia and overseas.
9. A record of science innovation and creativity
10. The ability to work effectively as part of a multi-disciplinary, multi-agency research team, and the motivation and discipline to carry out autonomous research.
11. Demonstrated ability and willingness to incorporate novel ideas and approaches into scientific investigations.
To be eligible for this postdoctoral fellowship, you will have less than 3 years (or part-time equivalent) of relevant research experience since gaining your PhD.

Special Requirements:
Applicants who are not Australian Citizens or Permanent Residents may be required to undergo additional clearances, examinations or tests. Further details are specified in the Position Description.
The successful applicant must have a current Class C driver's licence or the ability to obtain one.
For details about who to contact and for more information please view the Position Description
CSIRO's Commitment to Diversity
We're working hard to recruit diverse people and ensure all our people feel supported to do their best work and empowered to let their ideas flourish- D&I Strategy
Flexible Working Arrangements
We work flexibly at CSIRO, offering a range of options for how, when and where you work. Talk to us about how this role could be flexible for you. Balance
About CSIRO
At CSIRO you can be part of helping to solve big, complex problems that make a real difference to our future. We spark off each other, learn from each other, trust each other and collaborate to achieve more than we could individually in a supportive, rewarding, inclusive and truly flexible environment.
Apply Online
To apply online, please provide a CV and cover letter outlining your suitability and motivation for the role.
Applications Close
Sunday 30 June, 2019 (11:59pm AEST)

Closing Date:

30 Jun 2019
Location:

QLD - Brisbane
Salary:

AU$ 83,687 - AU$ 94,679 plus up to 15.4% superannuation
Work Type:

Full Time
Category:

Fellowships
Government
Plant/Crop Physiology