PhD Scholarship - Genetic and Physiological Characterisation of Cotton Sodicity Tolerance - [Archived Advertisement]
First listed on: 12 April 2019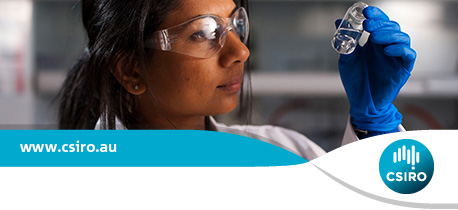 PhD Scholarship - Genetic and Physiological Characterisation of Cotton Sodicity Tolerance
Are you passionate about increasing the productivity of Australia's cotton industry?

Access CSIRO's world-class facilities and resources while completing your PhD

Apply for a CSIRO-WSU PhD scholarship now!
CSIRO Agriculture and Food and Western Sydney University (WSU) are offering a joint scholarship to a PhD candidate who has undertaken studies in agricultural science and plant biology. The student will work within a research team investigating genetics and physiology of sodicity tolerance in cotton.
Cotton is one of the most valuable agricultural commodities in Australia. The Australian cotton industry is known for high productivity and economic return, and has significantly contributed to the viability of many rural communities. Increasing cotton sodicity tolerance is of importance as much of Australia's cotton is grown in sodic soils with a very high clay content and high pH. In such soils, excessive Na+ can impair cotton nutrient uptake and use, cause nutrient related stresses and reduce nutrient use efficiency. Consequently, limiting cotton productivity.
CSIRO cotton breeders have made significant progress identifying a leaf Na exclusion trait in cultivated tetraploid cotton species, which has been bred into elite CSIRO germplasm and has potential to improve cotton sodicity tolerance. This project will investigate the inheritance and physiological mechanism of this trait, and look at molecular markers applicable to its future fast-track breeding in cotton. The outcomes of this project will include new rapid screening tools for identifying and developing sodicity tolerant cotton, and new understanding on mechanisms of cotton sodicity tolerance.
During this project some of the tasks the student may undertake include:
Planning, preparing and conducting field, laboratory and glasshouse experiments at both CSIRO and WSU facilities.

Applying innovative approaches to testing and developing new cost-effective screening protocols for cotton tolerance to soil sodicitiy.

Collecting, processing and analysing plant materials, and undertaking phenotyping and genotyping in different experiments.

Collating, analysing and interpreting data using appropriate computer program.
Location: Myall Vale (Narrabri), NSW
Scholarship: AU$30,000 per year (stipend)
Plus Research Training Program (RTP) Fee Offset through Western Sydney University (WSU) and support for conference attendance, fieldwork and additional costs as approved by CSIRO and School of Science and Health, WSU.
Tenure: (Up to) 3 year term (concordant with PhD at WSU)
Reference: 60742
Contact: For more information please contact Dr Shiming Liu at Shiming.Liu@csiro.au (CSIRO Supervisor) or Associate Professor Zhonghua Chen atZ.Chen@westernsydney.edu.au (WSU Supervisor).
Pre-Requisites/Eligibility:
As this is a joint scholarship, candidates must meet the requirements of both CSIRO and WSU. This includes WSU's requirement to hold an Australian First Class Honours degree, or a coursework Masters degree with at least 25% research component, or a Research Masters degree and acceptance (or expected acceptance) into a PhD program at WSU.
Applicants must hold Australian Citizenship or Permanent Residency.
To be successful you will need:
Strong academic background in agricultural science and plant biology, with the ability to undertake further study at an advanced level.

Strong academic performance in subjects relevant to modern plant genetics and breeding.

Understanding of experimental design and procedures, and the ability to capture, maintain, collate, analyse and interpret data using computers and computer programs.

Current Australian driver's licence and the ability to travel between the laboratory and greenhouse to field sites.
About CSIRO
At CSIRO you can be part of helping to solve big, complex problems that make a real difference to our future. We spark off each other, learn from each other, trust each other and collaborate to achieve more than we could individually in a supportive, rewarding, inclusive and truly flexible environment.
How to Apply
To apply, please prepare ONE document which includes all of the following:
your

CV/resume

;

the names and contact details of two previous supervisors or academic/ professional referees; and

a one-page proposal stating how your research interests align with the project aims.
After preparing the above document, please return to the advertisement and complete the following steps to apply:
Click on the 'Apply Now' button to either create a Candidate Profile or to login to your current account. Enter your personal details and then click 'Next' to move to the application form.
Complete the form and upload the one document you prepared as requested above in the field labelled 'Resume/CV'.
Upload your academic results in the 'Additional Documents' field.
If you experience difficulties applying online call 1300 984 220 and someone will be able to assist you. Outside business hours please email: careers.online@csiro.au.
Applications close
31 May 2019

Closing Date:

31 May 2019
Location:

NSW - Narrabri
Work Type:

Contract/Temp
Category:

Agricultural Science
Government
PhD/Masters/Scholarship/Cadetship/Traineeship
Plant/Crop Physiology