EOI - Robotics and Autonomous Systems - [Archived Advertisement]
First listed on: 17 May 2018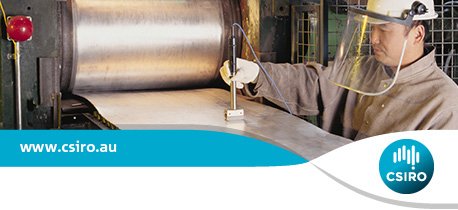 EOI - Robotics and Autonomous Systems
Are you keen to develop new algorithms for new devices and robots?
Would you like to work for one of the world's leading research organisations?
Join the Robotics and Autonomous Systems Group at CSIRO
The Positions
Do you want to work for one of the world's leading research organisations, reside in a city with extremely high standard of living, enjoy pristine beaches and sun all year round, and still carry out ground breaking research? If so, please read on.
We are currently seeking expressions of interest from Research Scientists and Engineers in the area of Robotics. The role of Research Scientist and Research Engineer Staff at CSIRO is to conduct innovative research leading to scientific achievements that are aligned with CSIRO's strategies. You may be engaged in scientific activity ranging from fundamental research to the investigation of specific industry or community problems.
You will have the opportunity to build and maintain networks, play a lead role in securing project funds, provide scientific leadership and pursue new ideas and approaches that create new concepts.
The Robotics and Autonomous Systems Group at CSIRO develops systems for perceiving the environment, for use in mapping, navigation and interpretation. We are looking for researchers and engineers to help build on the existing expertise and develop new algorithms for new devices in order to enhance the perceptive ability of autonomous systems.
As part of our Team, you may work with Simultaneous Location and Mapping (SLAM) algorithms that are used to generate maps and locate a sensor within a map, using laser range-finders (lidar) or camera devices. You may work on the control and planning for aerial robotics or legged platforms. You may be involved in the development of autonomous ground vehicles to be used in agriculture or in manufacturing. You can take part of field work that range from the Tower of Pisa to the Amazon Forest. These are exciting roles which require a high level of competence in mathematics, particularly 3D geometry, linear algebra, optimisers and mechanics. Additionally, competence in C++ software engineering and Python is desired.
Specifically you will:
Incorporate novel approaches to scientific investigations by adapting and/or developing original concepts and ideas for new, existing and further research.
Understand and extend existing SLAM, control or planning algorithms.
Communicate effectively and respectfully in the interests of good business practice, collaboration and enhancement of CSIRO's reputation.
Work towards project deliverables and publications.
Location: Pullenvale, Queensland, Australia
Salary: Attractive salary package on offer
Tenure: Specified term and indefinite
Ref No.: 56911
To be considered you will need one or more of the following:
High level of expertise in applied mathematics, such as linear algebra, optimisation or control theory.
Experience with mechanical, electronic, or software design.
A minimum of two years' experience in scientific programming using C++.
Demonstrated experience developing algorithms in the field of 3D geometry, robotics or computer vision.
Experience with embedded systems.
The ability to work effectively as part of a multi-disciplinary, regionally dispersed research team, and carry out independent individual research, to achieve organisational goals.
For the research science positions, you also require:
A doctorate and research experience in a relevant discipline area, such as Robotics, Dynamic Systems, Computer Vision, for the scientist positions.
A strong list of publications in top-tier robotics or computer vision venues.
About CSIRO:
Australia is founding its future on science and innovation. Its national science agency, the Commonwealth Scientific and Industrial Research Organisation (CSIRO) is a powerhouse of ideas, technologies and skills for building prosperity, growth, health and sustainability. It serves governments, industries, business and communities across the nation and world.
We work flexibly at CSIRO, offering a range of options for how, when and where you work. Talk to us about how this role could be flexible for you. Find out more! CSIRO Balance
Submit your expression of interest: Please provide enough information relevant to your expertise to enable the selection panel to determine your suitability, and upload your CV/resume and cover letter as one document. If your application proceeds to the next stage you may be asked to provide additional information.
About Brisbane:
Sun, Lifestyle, Beaches, Hikes and a world-leading robotics hub. For more information on Brisbane, please visit:

Location:

QLD - Pullenvale
Salary:

Attractive salary package on offer
Work Type:

Full Time
Category:

Autonomous Systems/Robotics
Engineering
Government