Top Up PhD Scholarship in Development of a Real-Time Toxic Elements Analyser using X-ray Fluore - [Archived Advertisement]
First listed on: 21 April 2018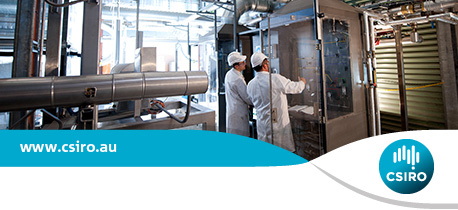 Top Up PhD Scholarship in Development of a Real-Time Toxic Elements Analyser using X-ray Fluore
Exciting Scholarship with hands-on development of an innovative analyser

Personalised research program within an experienced team

Work with experts in mineral processing applications to improve environmental process monitoring
In today's rapid growing cities the need for accurate real-time monitoring of toxic elements in food, water and soil becomes very important. Currently the required accuracies of many toxins cannot be met with existing analysers. The X-ray team that is part of Sensing and Sorting, Mineral Resources Business Unit, CSIRO – has developed a technology called UltraGold (UG) that enables real-time detection of gold at parts-per-billion level in mineral processing streams This project involves the further development of this technology in order to lower detection limits for a range of toxic elements.
The student will start with a study to establish what elements the new analyser should focus on and develop a good understanding of XRF analysis. You will be tasked with analyser design, prototype construction and testing.
Your duties/responsibilities will include:
• Computer modelling of radiation, using Monte Carlo tools
• Designing, building and operating experimental equipment
• Using radiation sources and detectors, including X-ray tubes and high-resolution solid-state detectors
• Data collection and analysis using python
• Undertake regular reviews of relevant literature and patents.
• Produce high quality scientific and/or engineering papers suitable for publication in quality journals.
• Prepare appropriate conference papers and present those at conferences as agreed with your supervisor.
• Contribute to the development of innovative concepts and ideas for further research.
Location: Lucas Height, NSW
Stipend: AU$7,000 per year as a top up scholarship plus a generous operating budget
Tenure: Up to 3 years
Job reference: 52586
To view the full position details and selection criteria click here: Position details
To be successful you will:
Have a First class Honours and/or MSc in Physics or Mathematics and be accepted into a PhD program at an Australian University.

Be experienced in at least one scripting or programming language e.g. Python

Have demonstrated ability to work effectively both independently and collaboratively with others in a team environment.

Demonstrate excellent written and oral communication skills in English.

Have the ability & willingness to contribute novel ideas and approaches in support of scientific investigations.
About us
At the Commonwealth Scientific and Industrial Research Organisation (CSIRO), we shape the future. We do this by using science to solve real issues. Our research makes a difference to people, industry and the planet.
About CSIRO Mineral Resources
Working closely with industry partners, we deliver innovation to grow Australia's resource base, increase productivity and drive environmental performance. To find out more visit: https://www.csiro.au/en/Research/MRF
How to Apply: Please provide enough information relevant to this position to enable the selection panel to determine your suitability, and upload one document containing your CV/resume and cover letter.
Applications open until filled

Location:

NSW - Lucas Heights
Salary:

AU$7,000 per year as a top up scholarship plus a generous operating budget
Work Type:

Full Time
Category:

Government
Mathematics
PhD/Masters/Scholarship/Cadetship/Traineeship
Physics