PhD Scholarship in Targeted Delivery of Nitric Oxide as a Vasodilator at Atherosclerotic Plaque - [Archived Advertisement]
First listed on: 16 July 2017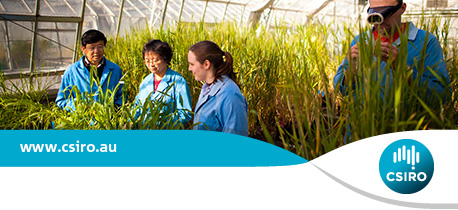 PhD Scholarship in Targeted Delivery of Nitric Oxide as a Vasodilator at Atherosclerotic Plaque
Are you passionate about a career in science?

Would you like to access CSIRO's world-class facilities?

Join our team at CSIRO - Australia's premier science and technology research organisation!
The Position
CSIRO Manufacturing and the University of Wollongong are offering a joint scholarship to a PhD candidate who has undertaken previous studies in a relevant science area. The student will investigate a new approach for targeting atherosclerosis through the selective release of the powerful vasodilator, nitric oxide (NO), from an NO donor prodrug at the site of the disease. The student will use their synthetic organic chemistry skills to prepare the prodrug, and use their bioconjugation and protein chemistry skills to prepare a protein conjugate containing both atherosclerosis-targeting and prodrug-activating moieties.
Antibody-directed enzyme prodrug therapy (ADEPT) is a two-step therapeutic approach, where an antibody-enzyme conjugate, specifically designed to localise the conjugate to a target tissue, is administered first. A small molecule prodrug is then introduced that is enzymatically activated at the target site by the tissue-bound enzyme conjugate. This method is attractive for localising high quantities of vasodilating NO specifically around atherosclerotic plaques.
The scholarship is jointly sponsored by CSIRO and the University of Wollongong. The student (based in Melbourne) will perform bioconjugation and protein chemistry at CSIRO (Melbourne), synthetic organic chemistry and biochemical measurements at the University of Wollongong (periodically) and antibody expression and protein purification at The Baker IDI in Melbourne. As such this project will be co-supervised between these institutions.
Location: Parkville and University of Wollongong
Stipend: $26,572 per annum
Tenure: Up to 3.5 years
Reference: 37403
To be successful you will need:
First class Honours and/or MSc in synthetic organic chemistry, protein chemistry, biochemistry or molecular biology and acceptance into a PhD program at the University of Wollongong.

Demonstrated expertise in synthetic chemistry or protein chemistry.

Demonstrated ability to work effectively both independently and collaboratively with others in a team environment.

Evidence of excellent written and oral communication skills in English.
Who we are: The Commonwealth Scientific and Industrial Research Organisation (CSIRO)
AT CSIRO WE INVENT THE FUTURE
We do this by using science and technology to solve real issues. Our solutions make a difference to industry, people and the planet.
As Australia's national science agency, we've been pushing the edge of what's possible for almost 90 years. Today we have thousands of talented people working across Australia and internationally. Our people work closely with industry and communities to leave a lasting legacy. Collectively, our innovation and excellence places us in the top ten applied research agencies in the world.
WE COLLABORATE TO INNOVATE
How to Apply: Please provide enough information relevant to this position to enable the selection panel to determine your suitability, and upload one document containing your CV/resume and cover letter. If your application proceeds to the next stage you may be asked to provide additional information.
Applications Close: 11:59pm AEDT, 31 October 2017.
To view the full position details and selection criteria click here: Position Details document

Closing Date:

31 Oct 2017
Location:

VIC
Salary:

$26,572 per annum
Work Type:

Contract/Temp
Category:

Biochemistry
Cell/Molecular Biology
Medicinal/Organic chemistry
Public Sector