Others urged to avoid our abuses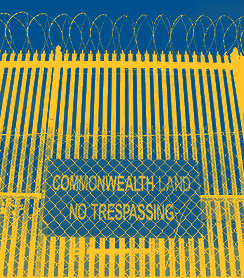 Ethicists have warned other countries against taking on Australia's abusive immigration system.
The system's lack of transparency perpetuates ongoing human rights abuses and what is effectively the torture of asylum seekers in remote offshore detention centres, they argue.
The situation was made worse by the introduction of the Border Force Act, which makes speaking up about abuse a criminal offence, punishable by a two year prison sentence.
More and more European countries, including the UK, have expressed interest in adopting Australian-style immigration policies, according to the article in the Journal of Medical Ethics.
The authors say that despite the legal gags, allegations of waterboarding, 'zipping' (whereby an individual is tied down to a metal bed frame which is then thrown in the air), force feeding during hunger strikes, restraint during deportation, and the incarceration of children, have nevertheless surfaced.
One of the most damning indictments of the Australian system came when the United Nations special rapporteur on torture found Australia to be in breach of the UN Convention Against Torture, despite having signed up in 2009 to the Optional Protocol on the Convention against Torture and other Cruel, Inhuman or Degrading Treatment or Punishment, or OPCAT, for short.
"The lack of access to respectable standards of medical care has been recognised by peak Australian health bodies and belatedly by the Australian Medical Association as constituting 'state sanction of child abuse and elsewhere as torture," the article states.
"It is... of great concern and significance that the frameworks which enshrine human rights and protect asylum seekers have long been absent in the Australian detention system."
The writers do note that Australia's detention system is in stark contrast to its other healthcare environments, which maintain high levels of reporting, record keeping, and vigilance.
The experts say that ratifying OPCAT would enable jailers and doctors in Australia to speak openly about what they have witnessed, but overall, Australia's approach should one to avoid.
"Europe is contending with the largest migration since the Second World War resulting from the Syrian crisis. The authors in the strongest possible terms counsel others against following on the same path as Australia, lest the same mistakes and unjustifiable suffering come to be repeated," they say.
The journal's associate editor Professor Kenneth Boyd says that "as Australia's immigration control policies are frequently cited as an example for others to follow, the practices of its detention centres and the role of health professionals in those centres should be of interest and moral concern elsewhere also".
"Popular sentiment in relatively peaceful and prosperous countries which are the desired destination of migrants from war-torn or impoverished parts of the world may not always wish to know all of the means by which immigration is controlled."