High-tech helmet helps fiddly fingers

Print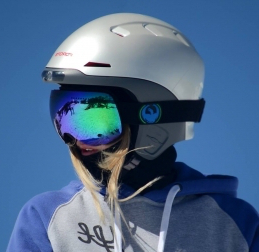 Tech-savvy snow-lovers will be keen to get their heads into the world's first intelligent snow sports helmet.
Packed into the high performance headgear - created by three UNSW graduates – is a radical range of devices, including a full HD camera, GPS, stereo speakers, a noise-cancelling microphone to communicate with friends via Wi-Fi and Bluetooth, impact sensors, a microcomputer and an emergency beacon.
UNSW Industrial Design graduates Alfred Boyadgis and Julian Chow and Engineering graduate George Constantinos came up with the idea after a trip to the snow left them fumbling with frozen hands to operate their phones and cameras.
After graduation the team headed down the traditional employment path, but a bit of encouragement from UNSW Innovations - the University's commercialisation company - they took the leap to create their own company, Forcite Helmet Systems.
Boyadgis and Chow also entered the UNSW Startup Games, an entrepreneurship competition designed to provide insights into how they might further develop their ideas and their company.
"We learnt how to pitch and develop a business plan and discover what investors think. It opened our eyes to the world because we didn't really know much about the key players in the industry, the people in Silicon Valley who could help us," Boyadgis says.
Boyadgis says that the helmet is still primarily a safety device, and it needs to work most when someone crashes.
"A helmet is meant to protect you, it's meant to be replaced, and that's something we had to factor into the design," Boyadgis says.
"The top shell, the phone, the speakers, the camera, the computer, the battery – are all elements that you can pull apart, and put back together again for a reasonably affordable price."
The Forcite team hopes to have the Alpine Helmet available in time for the northern hemisphere ski season and to expand into helmets for motorbikes, bikes and the emergency services and mining sectors.
"We have had more than 2500 registers of interest in the Alpine Helmet and we're currently looking for further investment opportunities," says Boyadgis.
As for the more distant future, the Forcite team sees technology moving into a whole range of networked wearable items and, with bionic eyes and mechatronic limbs on the horizon, perhaps even incorporated into the body.